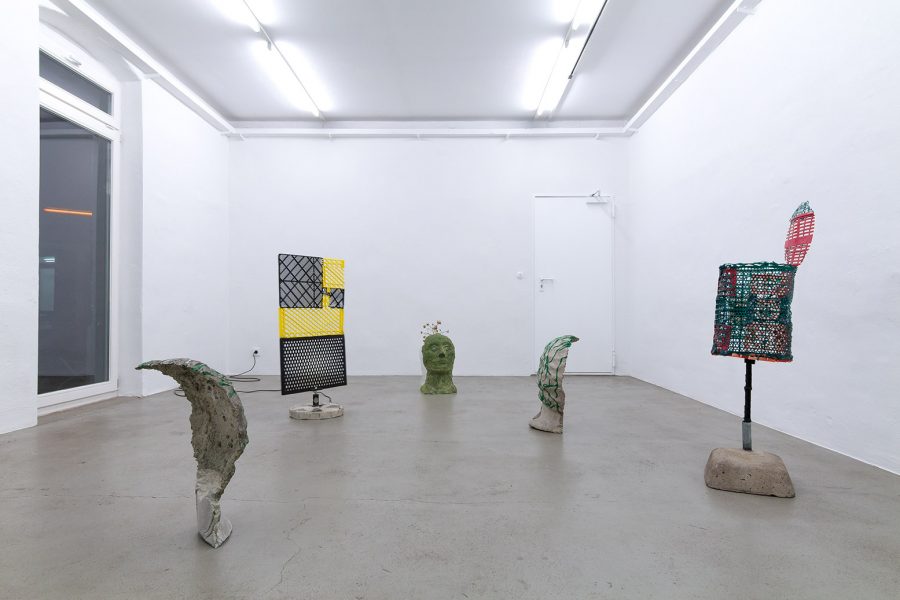 exhibition view, Cementa & Toyota at ACUD gallery, Berlin, 2017
RECENT / UPCOMING  EXHIBITIONS:
2021
(upcoming) KH7smallspace Aarhus, Denmark
2020
(upcoming) Sikås Biennale 2020, at Sikås Art Center, Hammerdal, Sweden
(upcoming) Alta Vista CPU, group show at at Celsius Projects, Malmö, Sweden
Polyfoni 5, group show, Galleri Thomas Wallner, Simris, Sweden
ATOMIC, group show organized by Schimmel Projects, in Brixen Bressanone, Südtirol, Italy
2019
100! at Galleri CC, Malmö, Sweden
Spooky action at a distance at Galleri NOS, Stockholm, Sweden
SJÒGVUR – Havets veje, TURA YA MOYA travelling-container-art at SALT, Suðuroy, Faroe Islands
Northern Lights, curated by Something Must Break at Alta Art Space, Malmö, Sweden
Close Call at Kunstscenen, Copenhagen, Denmark
FIVE FORMS of PLAY: MIMICRY with Louise Vind Nielsen and Susan Ploetz, at Celsius Projects, Malmö, Sweden
Sinkhole Project, Baltimore, Maryland, USA
mold dust life energy with Lisa Trogen Devgun & Paula Buškevica at IKOLONI in Malmö, Sweden
2018
VIII Tashkent International Biennale of Contemporary Art, Tashkent, Uzbekistan
Group exhibition Velvet Ropes at CRUM Heaven, Stockholm, Sweden
evolution and comfort at Ta·da Space, Copenhagen, Denmark
Boxplay, 8.Salon, Hamburg, Germany
corrupted full of life,  Schimmel Projects – Art Centre Dresden, Dresden, Germany
____________________________________________________________________________________________________________________________
NEWSFEED:
April 2020
Featured in the book 'Thoughts & Crafts (within contemporary culture)'  a thesis project by Till Meyering.
April 2020
Receives a one-year working grant from the Swedish Arts Grants Committee.
January 2020
exhibition Northern Lights featured on Tzvetnik
December 2019
The 'Northern Lights' group exhibition featured at O Fluxo journal
May 2018
interview on Vasistas Magazine (in English)
April 2018
Receives a grant for artistic development appointed by the City of Malmö
March 2018
Receives a travel grant from Frame Contemporary Art Finland
March 2018
Interview on konsten.net (in Swedish)
March 2018
The exhibition 'corrupted full of life' at Schimmel Projects – Art Centre Dresden is featured in KubaParis – Zeitschrift für junge Kunst.
March 2018
Receives an international cultural exchange grant from the The Swedish Arts Grants Committee
September 2017
Radio interview on Huomenta Ruotsi, Swedish Radio (in Finnish)
June 2017
Receives an international cultural exchange grant from the The Swedish Arts Grants Committee
February 2017
Selected to participate in Grosses Treffen portfolio review at Nordic Embassies in Berlin, April 2017
December 2016
Receives studio grant for 2017-2018 from the City of Malmö
July 2016
The sculpture entitled Residuals / Age of Shiny: Marble installed in the sculpture park of Fondazione Antonio Ratti in Como, Italy
May 2016
Selected to take part in the XXII edition of the CSAV – Artists Research Laboratory with Renée Green during July 2016 at Fondazione Antonio Ratti in Como, Italy
March 2016
Portfolio online at the Grosses Treffen site
June 2015
The project The Illness featured in Original Magazin, in an article on social sculpture. (In German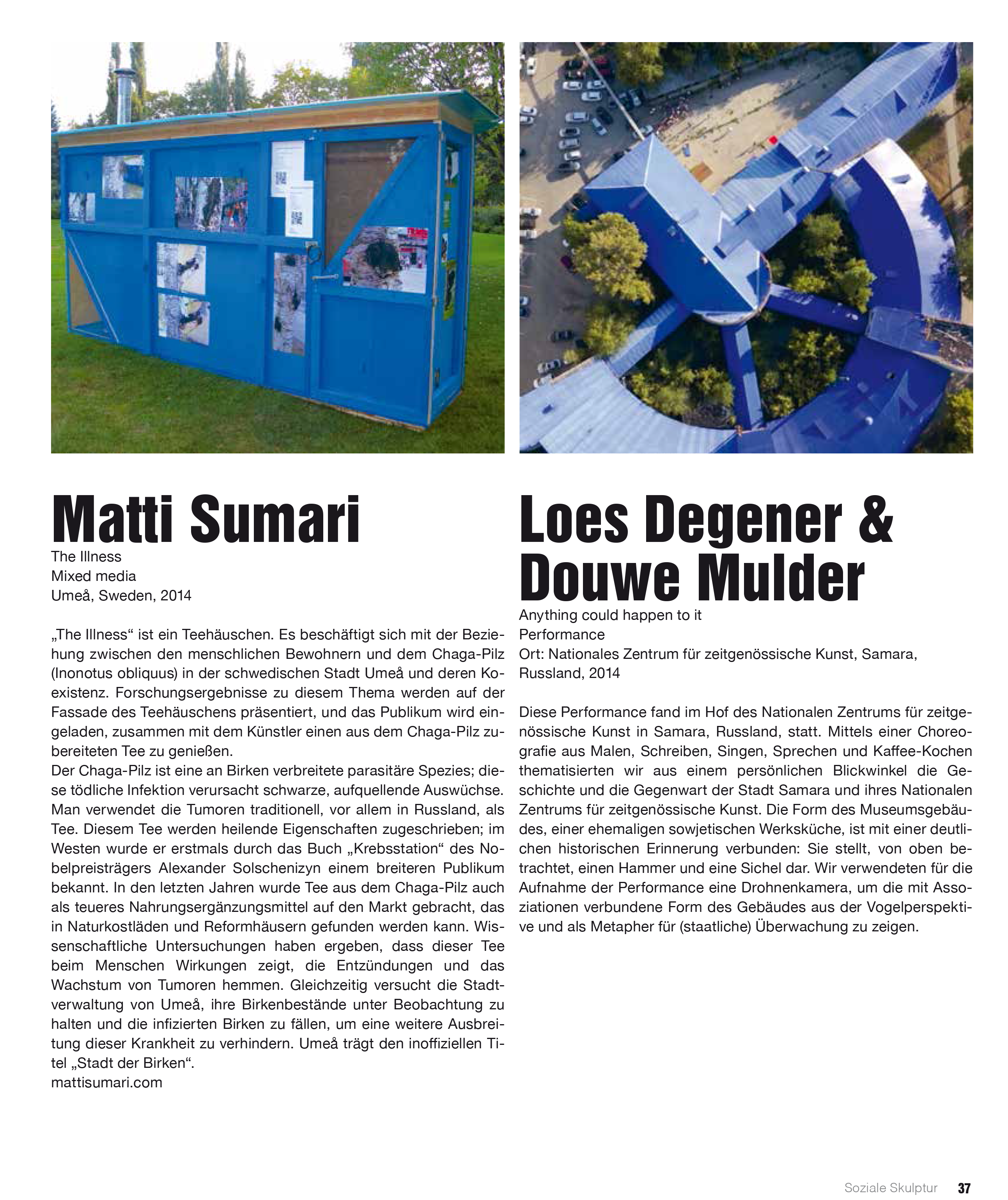 )
November 2014
Receives Assistant Grant from the Swedish Arts Grants Committee
for assisting the German artist Judith Hopf during 2015
October 2014
Interview in the newspaper Ruotsinsuomalainen. (in Finnish)
September 2014
The sculpture Decay and Achievement featured on Kunstkritikk in an article on the Survival Kit -festival (in Swedish)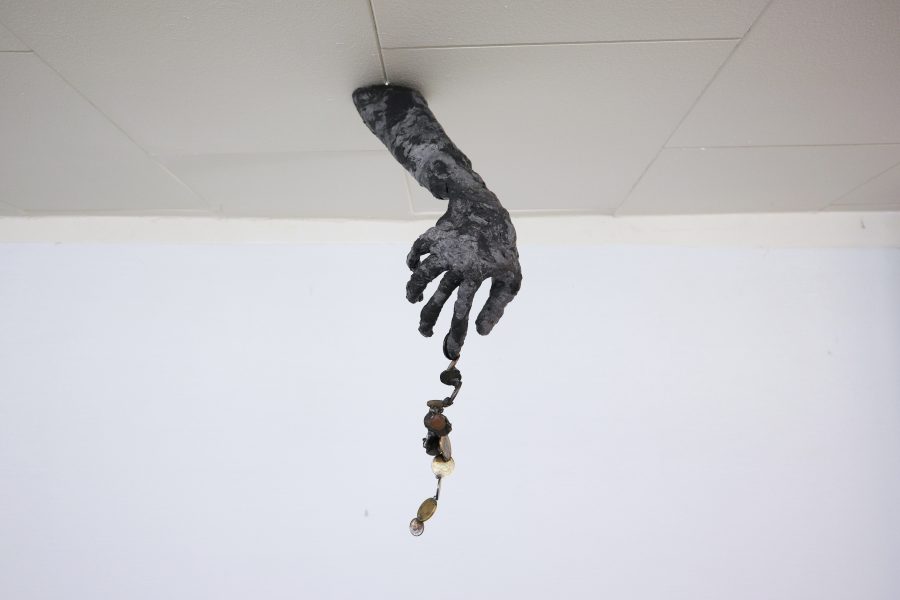 non-human itch II
valid & invalid coins of various currencies,
polypropylene plastic from strawberry and champignon mushroom baskets,
from the group exhibition evolution and comfort at Ta·da Space, Copenhagen, Denmark, 2018